Getting a tenant screening report (credit and background check report) on an applicant starts with requiring a screening report on a lease application. When requiring a screening report with a lease application, the submitted lease application will include the required reports.
If you have questions about adding or working with lease applications, see the support topics in the screening section.
Before requesting your first screening report, make sure you have a current and valid payment payment method on file. You can add a payment method from your Company > Billing Details page, in the right column.
After adding a lease application, you can then require/request a screening report. It is required to add a lease application, inviting applicants, before you request the screening report. You can request the report immediately after adding, however. Additionally, you can request/require a screening report at any point during the lease application process. This allows for you to customize your workflows to best fit your needs.
In some cases, companies may wish to receive applications and review these before requesting a screening report. However, in other cases, companies may wish to require a screening report along with an initial lease application submission. This decision is up to you.
When you require a screening report, if a lease application has already been submitted, the applicants will be notified and required to complete any additional required information. When requiring a screening report with an initial lease application invite, no additional notifications are required.
When hovering over a lease application "card", you'll see an action pane. Click the fingerprint icon to request reports.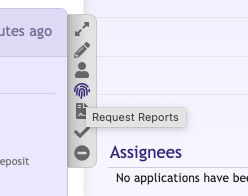 This will then bring up the form to request screening reports.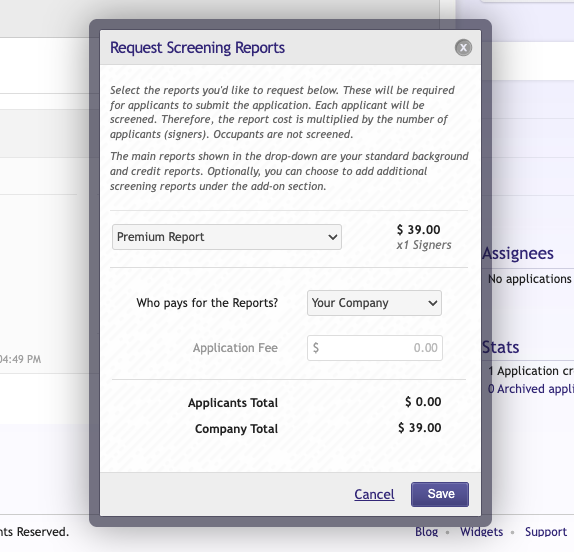 On this form, you'll start by choosing the report you'd like to request. We currently offer 2 reports, "Basic" and "Premium". Pricing and additional information about these reports can be found on our pricing page.
Each designated signer in a lease application will be screened as part of the request. So, the report cost is per signer.
Next you can choose who pays for the reports. If you select for the applicants to pay, they will be required to input their credit card details when submitting the lease application, to pay for the report. That is, assuming you've required a screening report. Otherwise, they'll be able to submit without payment. Likewise, if you select for your company to pay, you will be billed when the report is processed, at the time of lease application submission.
If you're interested in collecting a lease application fee, read more about setting this up.
And that's it. Save the request and you'll then notice your lease application has updated to reflect.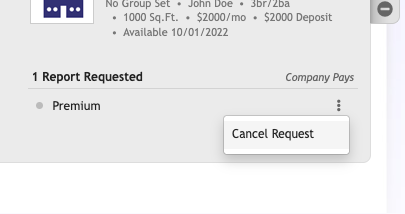 You can also cancel this request by clicking the 3 dots icon next to the requested report and choosing "Cancel Request".
The status of the requested report will be updated after the lease application has been submitted.